NiceHash is one of the most popular hashing power marketplaces where users can mine altcoins as well as buy hashing power from other miners. Unfortunately, in December 2018, the Slovenian cryptocurrency mining company fell victim an attack and hackers managed to get away with 4700 BTC valued at close to $60 million.
Even though NiceHash proved that the team behind the project is comprised of true professionals, and mining operations were quickly relaunched after various internal investigations, there are some out there that have lost faith in NiceHash.
Fortunately, there are numerous other viable options. In this guide, we will take a look at some of the best NiceHash alternatives for 2019.
MinerGate
MinerGate is a popular mining program that allows users to mine Bitcoin and multiple other altcoins such as Ethereum, Zcash, Monero, and so forth. The hash power MinerGate requires is provided by a Scotland-based company called Hashing24. The platform allows users to earn money through mining based on the current exchange rate, as well as on a benchmark of their hardware.
Miners are paid directly into their wallets when the minimum payouts are reached. Even though it's not as popular as NiceHash, Minergate has one advantage over the first: it doesn't provide users with the option of storing their earnings on the platform.
Kryptex Miner
The Kryptex Miner is a very interesting application for Windows that uses a smart computer hardware sensor to analyze how much users can earn on a daily and monthly basis. Earnings (either Bitcoin or real money) are automatically sent users' wallet addresses. Other payment options include Qiwi Visa Wallet.
The platform has a very user-friendly interface with a little to no esthetic clutter. A big disadvantage of this software is the fact that it does not support cloud mining. Couple this with the fact that there is not a lot of information about who actually runs the platform, and it's quite clear that a bit of caution is required when using Kryptex Miner.
CudoMiner
Just like Kryptex, CudoMiner is one of the best NiceHash alternatives as it's a cross-platform crypto mining software that allows users to get profits through their mining efforts. Designed by Duncan Cook and Matt Hawkins to be as widely accessible as possible, CudoMiner is available for Windows, Linux (Ubuntu), and macOS.
The software can be downloaded and installed quite easily and can be used only after users create an account. In terms of features, the highlights are an automatic algorithm switching capability that ensures that users mine only the most profitable coins and the option to manually optimize the machines for a specific coin. It's designed to cater to the needs of both advanced and beginner miners.
HoneyMiner
The HoneyMiner app is a Windows application that allows you to access a relatively new mining service, converting your system into a mining rig for some extra passive income. The software automatically detects which coin is the most profitable to mine at any point in time. Another big benefit is the fact that the app converts all cryptocurrencies mined into Bitcoin before users are paid.
The built-in Crypto Calculator allows users to determine just how much they can earn by HOLD-ing their coins for a specified period of time. HoneyMiner is easy to install and, unlike most other similar apps, it only requires users to enter a valid email address before they can start mining.
Awesome Miner
Another newcomer into the scene of crypto mining is Awesome Miner. It's a mining network that allows any crypto enthusiast to maximize the profits of his or her cryptocurrency mining operations. The platform can be accessed either via a web interface or directly through a Windows app.
One of the desirable features of Awesome Miner is the app's profitability switching system. This system relies on real-time multi-pool statistics and coins various coin parameters, as well as algorithms and mining software to always ensure the highest rate of profitability. The main drawback is the fact that the interface can be a little cluttered which might make it a bit confusing for first-time users.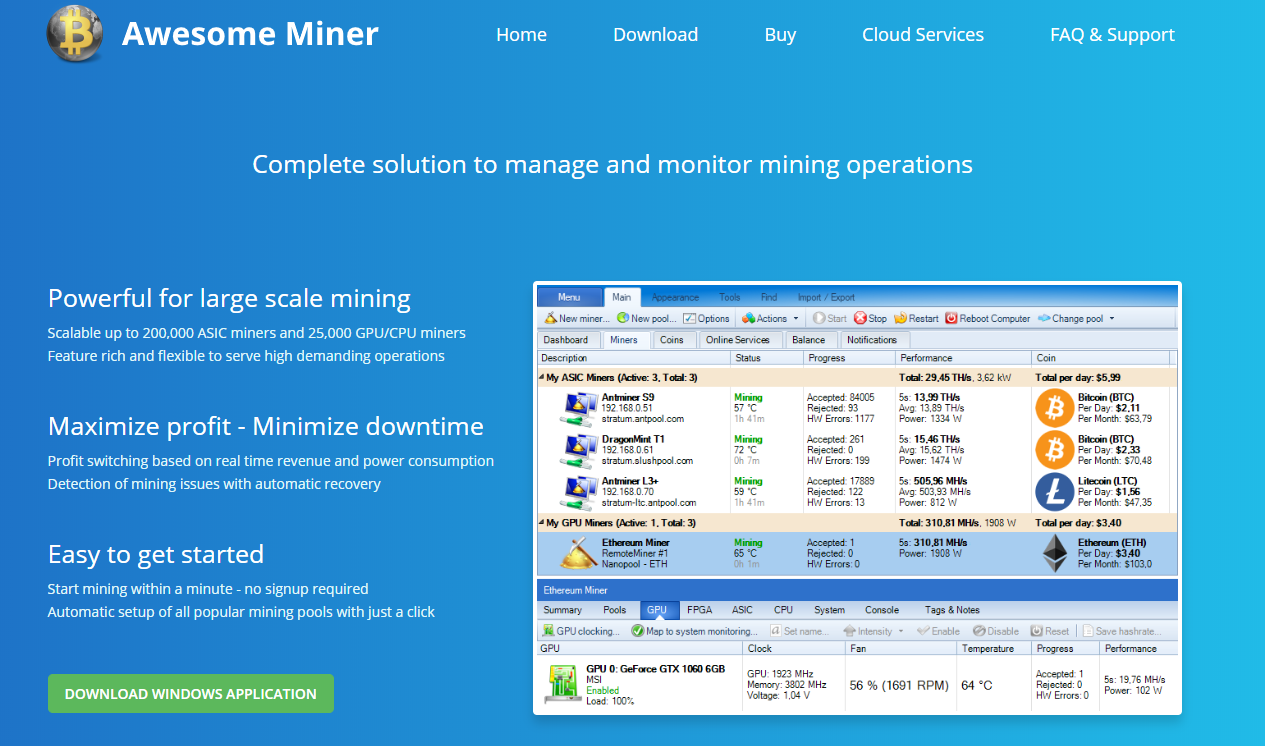 WinMiner
WinMiner is another platform that promises to turn users' unused computing power into small, passive revenue. The software is smartly designed to make use of a computer's hardware only when it's not needed by its owner thanks to a system called Auto Mode. In short, the program allows for a PC to work 100% of the time rather than being idle while its users are away.
Users are rewarded in Bitcoin, USD, or Ethereum. The software analyzes each system and determines which miner to use and which coin to mine based on the results. Unfortunately, only system running Windows 7 or higher are accepted. Eligible computers are also required to have an Intel CPU and a graphics card of 2GB memory or higher.
Computta
Computta is another software that promises to turn any decent, modern-day computer into a 24/7 passive income generator. The main goal of Computta is to remove all the complexities usually associated with crypto mining. They program is very user-friendly, and it can be used even by the most inexperienced users.
The mining platform converts all earnings into Bitcoins and displays balances in USD. Users who refer other people to the platform will receive various rewards. The main benefit of this software is its simplicity. It's a fully automated as Computta runs in the background and it works out of the box, without any type of intervention from its users.
Conclusion
All of the above are good NiceHash alternatives, however, it's important to do your own research and to thoroughly evaluate all the pros and cons before making a decision.