VeChain (VET) Price Prediction and Analysis in April 2021
Last Updated on Aug 9, 2021 at 12:12 PM
Price at Writing
$0.085551
VeChain is currently the 20th largest cryptocurrency by market cap. It has a maximum and total supply of 86,712,634,466, with a 24-hour trading volume of $993,487,865. The current market cap is $5,506,675,938, with a circulating supply of 64,315,576,989 VET. We will be looking at some of the past price trends, developments, and market opinions for VET in order to determine a VeChain price prediction for April 2021.
VeChain Price Prediction: Analysis
VET is one of the cryptocurrencies that have enjoyed 2021. It has grown from $0.019515 at the beginning of the year to $0.098336 on March 22 before dropping to the current price of $0.08576. The surge may have been driven by the recent Bitcoin price increase, but how sustainable is it and what does the future look like for VET?
The drop in the price was because of the selling pressure, which was predicted to bring the price down to that level. This is normal considering the price has been in an upward trend for long. Unless buyers step in, the price could drop further to $0.07 before the next leg up.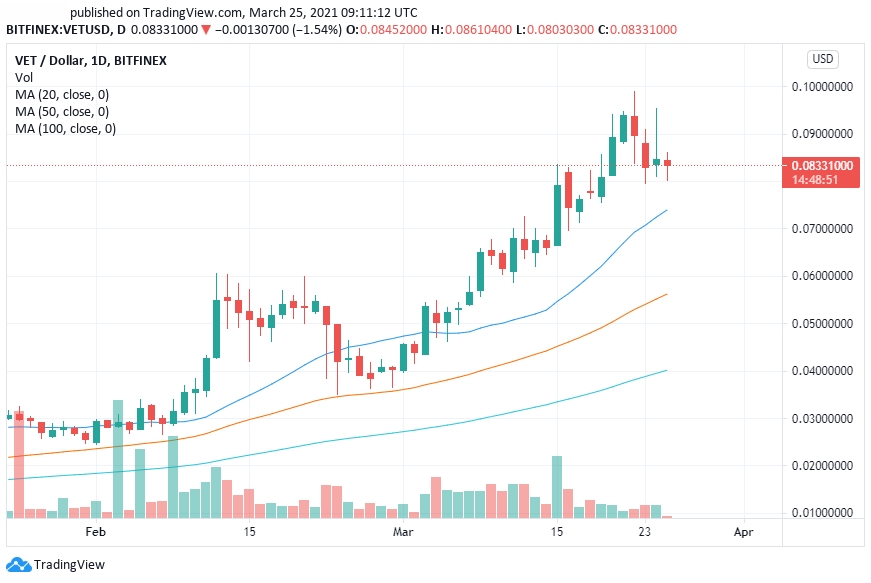 For a reversal of this downward move to be confirmed, VET will have to break above the previous $0.098 high. Once this happens, the price will be set to reach $0.12. At the moment, the RSI, which indicates the momentum, is still strong above 60. This means it is possible for the price to drop further for buyers to come in and raise the price again.
VET is generally showing a bullish trend on the daily chart with the price trading above the 50 and 100 MA. A longer time frame chart like the weekly is, however, showing a bearish momentum. This could change eventually if there is a clear trend reversal in the coming days.
For those trading VET, the following are support and resistance levels to keep in mind. The prices were calculated by Walletinvestor and can be a good reference in making your trading decisions.
Resistance Level (R3): 0.1065;
Resistance Level (R2): 0.10083;
Resistance Level (R1): 0.0931;
Pivot Point: 0.0875;
Support Level (S1): 0.0798;
Support Level (S2): 0.0741;
Support Level (S3): 0.0664.
Developments
VeChain has developed a digital wallet app known as Sync 2. The wallet app is meant to help those without technical expertise to interact with dapps. Before now, using dapps and smart contracts involved a certain level of tech expertise. Some dapps even require particular devices or operating systems and browsers, making it highly restricted.
With Sync 2, these restrictions have been removed, and anyone can use dapps as easily as using any web application, such as email. Users also don't need to manage crypto to pay gas fees. dApp owners or DaaS service providers will instead fund gas fees on behalf of users, making the process much easier. Sync 2 is the first of its kind and will potentially pave the way for mass adoption of dapps even among the non-technical parts of society. Anyone can henceforth interact with dapps regardless of which browser or operating system they use.
VeChain (VET) Price Prediction: Market Opinions
The following are market opinions from top websites on VeChain price prediction.
Tradingbeasts
Tradingbeasts's VeChain price prediction is that the price of VET will be $0.1004026 at the beginning of April. The expected maximum price for the month is $0.1261240, and the minimum price is $0.0857643. The price is anticipated to reach $0.1008992 by the end of the month.
Digitalcoinprice
Digitalcoinprice is bullish on the price of VET. They said that the price will reach an average of $0.11083240, which means an increase of 31.17%.
Longforecast
Longforecast is bearish on the price of VET. Vechain price prediction is that it will drop to $0.079 at the beginning of the month. The expected maximum price is $0.172, while the minimum is $0.069. The average price for the month is $0.099, and the closing price is $0.074.
Walletinvestor
Walletinvestor expects VET to do better in April. They predict that the price will reach $0.098 at the beginning of the month. The price is expected to reach up to $0.115 within the first 14 days of the month. Below is VET price prediction for the beginning of April 2021:
| | | | |
| --- | --- | --- | --- |
| Date | Price | Min Price | Max Price |
| 2021-04-01 | 0.0985 | 0.0938 | 0.1034 |
| 2021-04-02 | 0.0999 | 0.0955 | 0.1047 |
| 2021-04-03 | 0.1035 | 0.0989 | 0.1085 |
| 2021-04-04 | 0.1052 | 0.10025 | 0.110 |
| 2021-04-05 | 0.1098 | 0.1053 | 0.115 |
| 2021-04-06 | 0.1094 | 0.1044 | 0.114 |
| 2021-04-07 | 0.110 | 0.1052 | 0.115 |
| 2021-04-08 | 0.112 | 0.1074 | 0.117 |
| 2021-04-09 | 0.113 | 0.1090 | 0.118 |
VeChain Price Prediction: Verdict
Looking at the trends shown by VeChain, the price will likely bounce back in the short-term, which could lead to better long-term performance. In the meantime, VeChain also has the potential to dip further if the bulls do not swing to action. To a large extent, this depends on Bitcoin's performance, as this affects the market most times. Also, if you want to purchase VeChain, you can find a lot of guides that will be useful to you. Remember, you are solely responsible for your investment.
Featured image: cointribune.com