Today, we will be taking into account some of the market opinions and TRX historical prices in order to help you develop a Tron price prediction for February 2020.
Tron Overview
TRON is a blockchain project that was launched in 2017 by Justin Sun and was initially targeted towards publishing decentralized content, but in recent times, the platform has reoriented itself to cater to dApp and online game creation.
TRX, the native utility token of the TRON blockchain network, has a current ranking of 15 according to a market cap of $1,261,319,728 and a price of $0.018915. The 24-hour trading volume of the coin is $1,329,004,172. There are currently 66.682.072.191 TRX circulating on the market out of a total supply of 99.281.283.754 TRX.
Tron Price Prediction: Analysis
Tron started the month on a good note, as it continued January's growth spur.
The TRX price broke out above a descending resistance line on Jan 14, and the price has been experiencing growth since then, but it failed to get past the $0.0191656345 resistance area despite constant tries.
On February 1st, TRX opened at $0,018664 and closed at $0,019064, after seeing an increase of 2.59%. The next day, Tron's TRX rose by 0.25%, but was relatively stable, as the coin started the day off at $0,019057, and mostly maintained itself over the $0.019 level. The price was making an attempt at breaking out the new resistance area found at $0.021.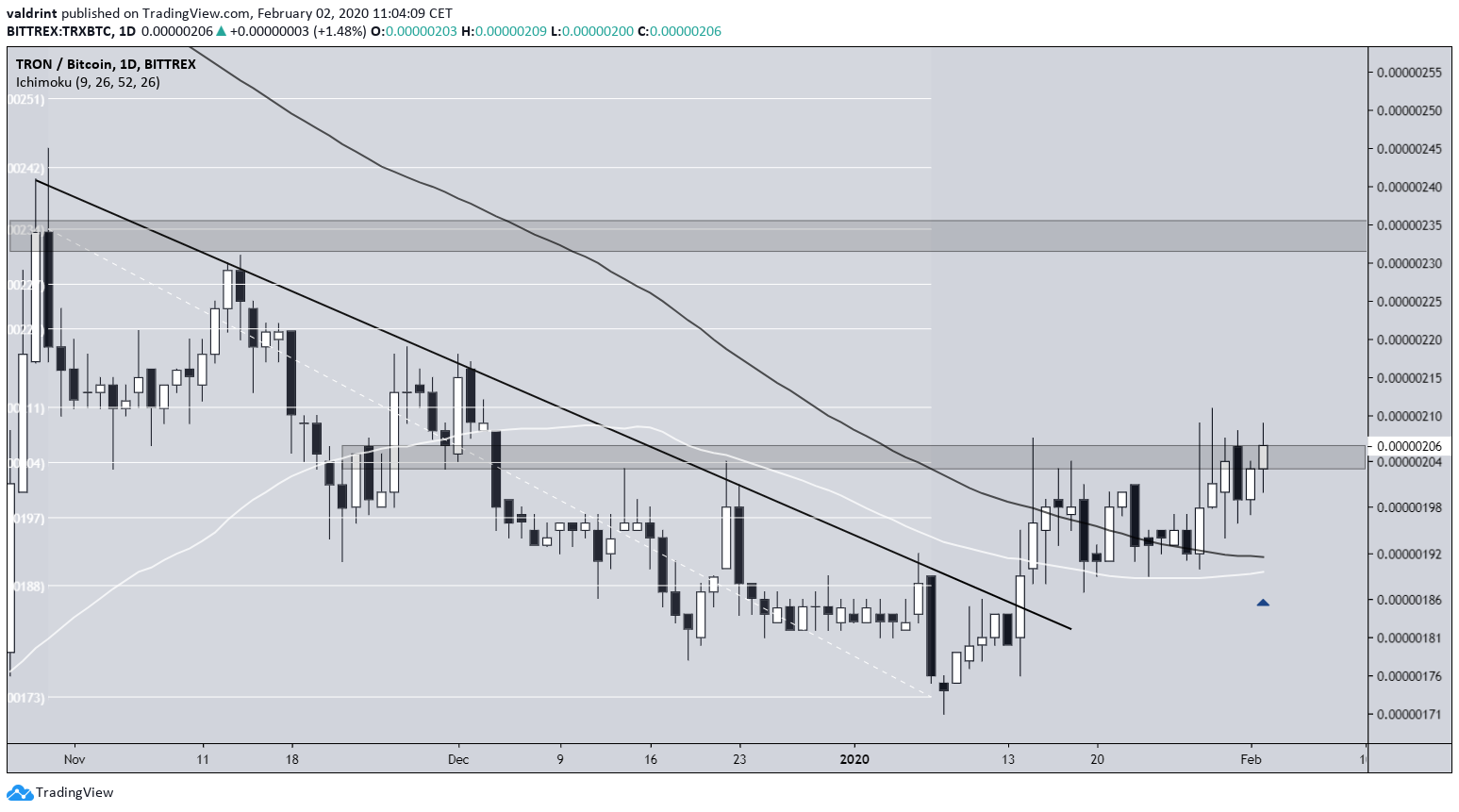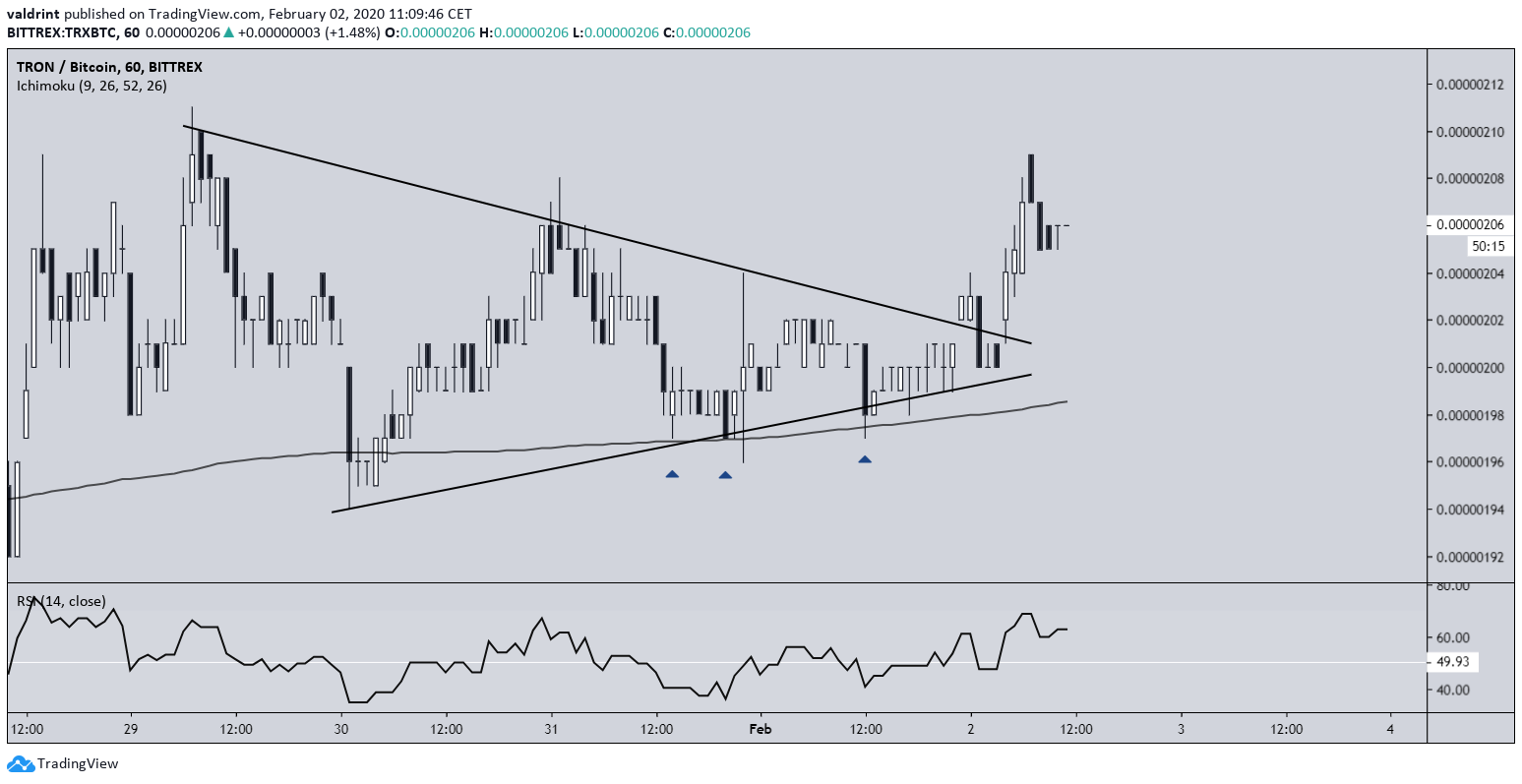 TRX closed the week with a total increase of 13.03%, which brought the coin to a price of $0.019135. At the time of writing, February 3rd, Tron's TRX was down by 0.14% to $0,019231. If the coin manages to get past today's morning high of $0.019707, it might succeed in later getting past the major resistance levels, which are set at around $0.020.
The pivot, resistance, and support levels calculated by Walletinvestor are:
Resistance Level (R3): 0.02084
Resistance Level (R2): 0.02025
Resistance Level (R1): 0.0195
Pivot Point: 0.0189
Support Level (S1): 0.0181
Support Level (S2): 0.0175
Support Level (S3): 0.0167
Developments
A few days ago, it was announced by TRON that its newest version of CoinPlay has been launched. It is marketed to be the first global marketplace where blockchain applications can be downloaded.
CoinPlay was initially acquired by Tron back in March of 2019. The marketplace is based on the TRON blockchain, and a recent international version has been rolled out. The Tron Foundation intends to make the platform the new AppStore of the blockchain world.
"TRON and CoinPlay share the same vision: providing better user experience for blockchain practitioners in the industry." – read the Foundation's statement.
Tron CEO, Justin Sun, also tweeted with regards to the CoinPlay launch:
"The world's first blockchain application store with a large number of applications for trading, wallets, market information, media and news, industries, blockchain games as well as DApps."
CoinPlay will also facilitate real-time quotes in various currencies and diverse platforms.
Justin Sun has once again earned the ire of netizens, as he used the Coronavirus outbreak to further shill TRX. Many users responded negatively to his shameless promotion tactics platform. But seeing his past record for blatant and invasive marketing practices, it is unlikely he will stop bombarding the media with Tron-related posts.
Fighting #coronavirus! #TRON is on the way! Wuhan, we are with you! Stay strong! @Tronfoundation pic.twitter.com/yVpYvBTiwt

— Justin Sun (@justinsuntron) January 28, 2020
Tron Price Prediction: Market Opinion for February 2020
Seeing as there have been several websites that have made their own Tron price prediction for February 2020, we have decided to include some of the most relevant ones in order to better relay the TRX market sentiment.
Previsionibitcoin
Previsionibitcoin forecasts that TRX will be trading hands at a value of $0.025536 in February 2020.
WalletInvestor
WalletInvestor has made a Tron price prediction for the next 9 days of February, along with their probable maximum and minimum prices.
| | | | |
| --- | --- | --- | --- |
| Date | Price | Min Price | Max Price |
| 2020-02-05 |  0.02086 |  0.0200 |  0.0217 |
| 2020-02-06 |  0.02032 |  0.0194 |  0.0212 |
| 2020-02-07 |  0.02051 |  0.0196 |  0.0214 |
| 2020-02-08 |  0.02064 |  0.0198 |  0.0215 |
| 2020-02-09 |  0.02079 |  0.0199 |  0.0217 |
| 2020-02-10 |  0.02086 |  0.0200 |  0.0217 |
| 2020-02-11 |  0.0214 |  0.02055 |  0.0223 |
| 2020-02-12 |  0.0222 |  0.0214 |  0.0231 |
| 2020-02-13 |  0.0217 |  0.02086 |  0.0226 |
Cryptoground
Cryptoground predicted that Tron will be trading during the middle of February at a price of $0.0165, with a change of -14.30%. Also, the site anticipates that TRX will close the month at $0.0164, with a loss of -14.83%.
Cryptorating
Cryptorating expects Tron to trade at around $0.023673 by the middle of the month of February, which would mean an increase of 22.88%. The expected closing price for the month was calculated at $0.032463, change for 68.5%.
Digitalcoinprice
Digitalcoinprice projected that Tron would be trading at $0.03492316 in February, which implies a positive price increase of 81.6 %.
Coinpredictor
Coinpredictor anticipated that by the end of the month, TRX will see an increase of 29.4%, which would place the coin at a value of $0.020678.
Gov.capital
Gov.capital predicts that TRON would have a trading price of $0.023 in two weeks, with a possible maximum of $0.02323, and a possible minimum of $0.02277.
Altcoinforecast
Altcoinforecast's TRX price prediction for February sees the coin ending the month at a price of $0.025.
Bitverzo
Bitverzo anticipates that TRX will have a price of $0.013259 on February 29th, with a minimum price of $0.021033 and a maximum price of $0.051293.
Tron Price Prediction: Verdict
With this, we have reached the end of our Tron price prediction for February 2020. We hope the data illustrated here will prove useful to you and your TRX trading activities.
Featured image: cryptonomist.ch