Seeing as large gatherings are still out of the question due to the current outbreak, many crypto events will be hosted online for a while. If you are interested in participating in an online crypto event, keep on reading our list.
Below are the top crypto events that will take place online in June:
Mainnet
Event date: 1-3 June 2020
Launched by Mesari, Mainnet is an online crypto event that will feature the industry's top leaders innovators, investors, and developers. It will be welcoming nearly 1000 attendees to learn more about how we can use this technology to change our financial system.
The Mainnet 2020 event will be promoting Binance Charity (the charity division of the popular Binance exchange) and The Giving Block. The program will be packed 24/7 with dozens of keynotes, panels, roundtable discussions, workshops, and product demos, a virtual exhibition schedule, to enable attendees from all time zones to stream at all hours.
The main subjects that will be debated focus on the most pressing trials of the industry, and the speakers will provide the audience with insights into this ever-shifting ecosystem.
Attendees will be able to access unlimited "unconference" sessions, as well as a networking area.
50% of the money made from selling tickets will be used to support organizations that are fighting against COVID 19.
Binance Charity will use these donations in their "Crypto Against COVID" global campaign to buy medical equipment (PPE) and distribute them to the hospitals that are the most in need.
The Giving Block formed their #CryptoCOVID19 alliance, which brings together top leaders from various industries in donating for the current health crisis.
The crypto event will have the following speakers:
Joe Lubin, Founder of Consensys;
Jeremy Allaire, Co-Founder & CEO of CIrcle;
Sergey Nazarov, Co-Founder of Chainlink;
Changpeng Zhao, CEO Binance;
Danny Ryan, Lead developer at Ethereum 2.0;
Anthony Pompliano, Co-founder at Morgan Creek Digital Assets.
Web 3.0 Forum at CogX
Event date: 8-10 June 2020
This online crypto event is expected to be streamed by 30,000, and it will be focusing on various Web 3.0 technologies and how they can be used to improve our society and economy from the ground up. The most prominent names from various sectors will be present to debate how these emergent technologies can better ourselves and our lives. Some of the topics that will be treated here will include a decentralized justice system, technology-backed UBI, and enhanced vaccine discovery.
The crypto event will have the following speakers:
Alex Masmej, Founder, Rocket;
Andy Bromberg, Founder & CEO, Coinlist;
Ben Goertzel, CEO, Singularity Net.
International Trade Blockchain World Virtual Conference
Event date: 17 June 2020
This streaming event will be showcasing how blockchain technology will play a major role in the digitalization of our world. The conference, which is expected to have around 1000 viewers, will also be featuring the advantages of blockchain implemented for international trade finance, resolving real basic problems, and eliminating friction and pain points.
The crypto event will have the following speakers:
Lance Thompson, Head Of Unit, U.N. Economic Commission for Europe;
Emmanuelle Ganne, Senior Analyst, Economic Research Department, WTO;
Tony Brown, Founder & CEO, The Trade Advisory.
BlockDown 2020
Event date: 18-19 June 2020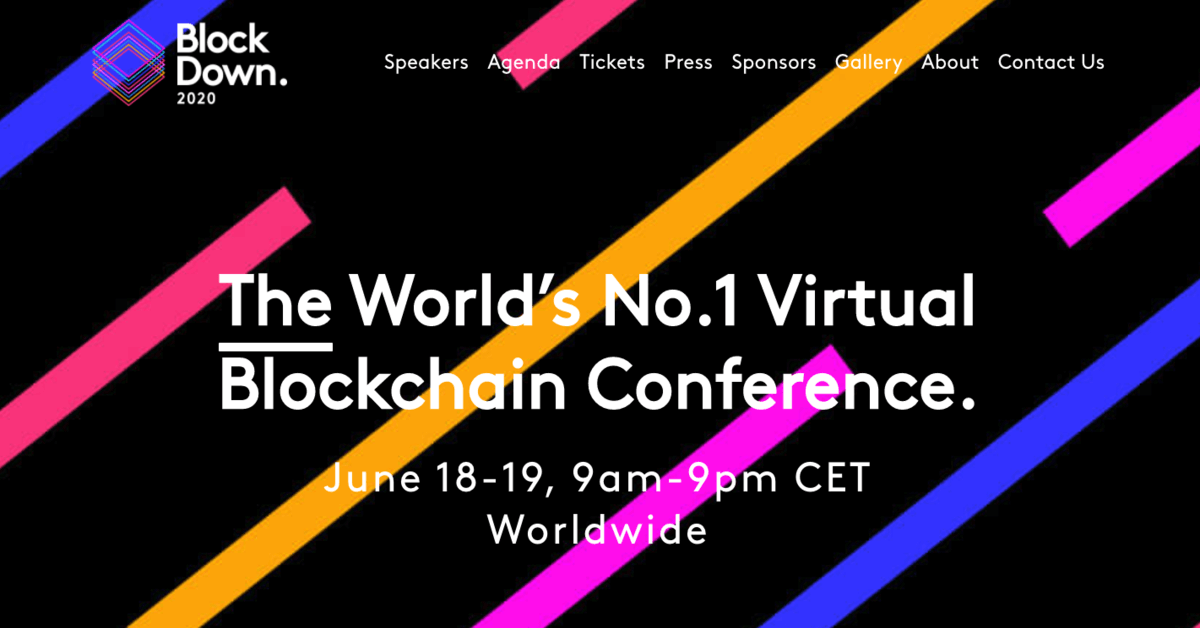 Because of the coronavirus outbreak, all international travel has been halted, and events have been canceled and postponed en masse. In response to this situation, the BlockDown 2020 conference was organized in order to show that the crypto community can be brought together via the online environment.
During the course of 2 days, streamers will be able to participate from the comfort of their own home in interactive interviews and networking meetings with users from all over the world. Compared to traditional offline events, attendees have much more chances of networking with multiple people at once.
The crypto event will have the following speakers:
Roger Ver, Exec Chairman of Bitcoin.com;
Nicholas Merten, Host & Founder of DataDash;
Bobby Ong, Co-Founder of CoinGecko.
FinTech World Forum 2020
Event date: 29-30 June 2020
FinTech World Forum is an online crypto event that will be streamed by more than 2,000 members of the crypto and tech community that are interested in finding more about emergent technologies, such as A.I., blockchain, IoT, and their possible impact on the fintech sector.
The crypto event will have the following speakers:
Søren F. Mortensen, Global Dir. Financial Markets at IBM;
Laurence Krieger, COO at Tide;
Noam Ziegerson, Chief Data Officer at Tandem Bank.
Crypto Valley Conference 2020
Event date: 15 June 2020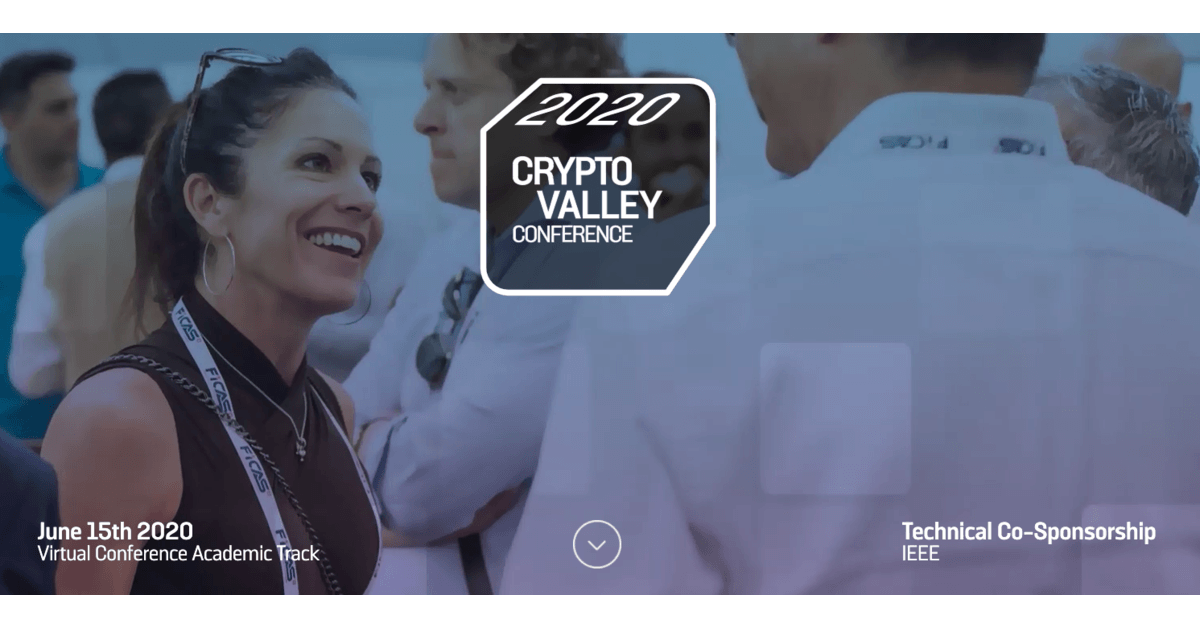 The Crypto Valley Conference is at its 3rd iteration, two days of in-depth discussions on the current state and future of blockchain technology.
The event will be taking an in-depth look at technology, economy, finance, and regulatory aspects of cryptos and blockchain technology. Some of the areas that will be approached include use cases, smart contract chain security, identity management, scalability & consensus, crypto assets, IoT & shared data, and many others.
Papers from only the best academics will also be featured, as well as leaders from start-ups, corporate, and government organizations.
The list of speakers will be announced soon.
Remote Crypto Con
Event date: 24-26 June 2020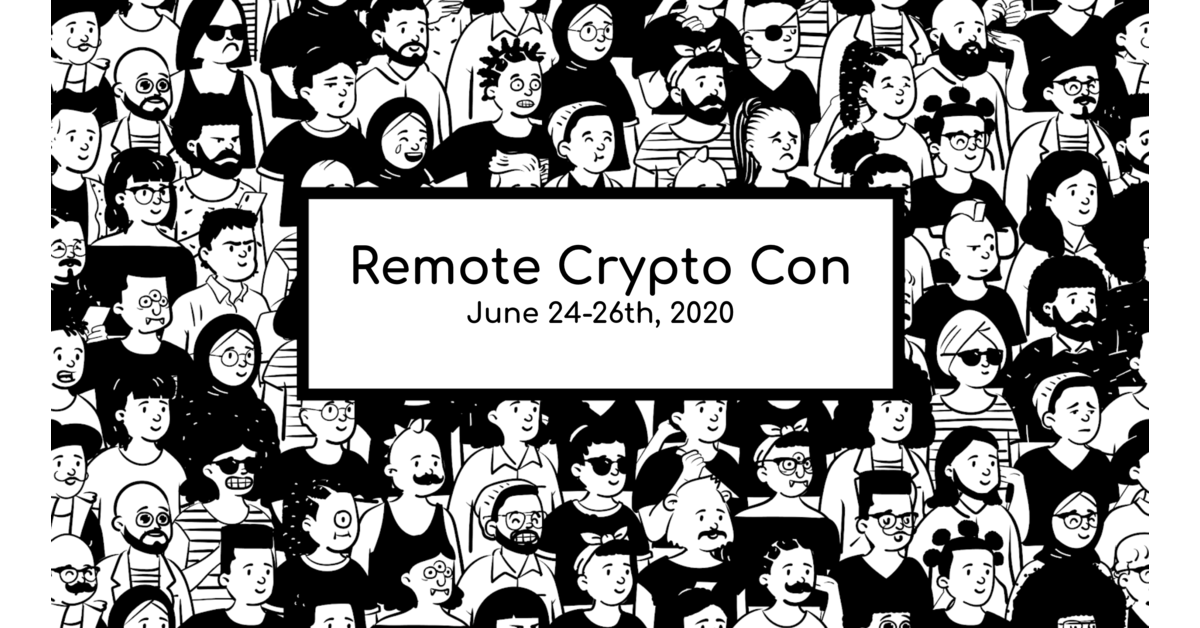 This 3-day event will feature insightful discussions from some of the most enlightened speakers from the crypto industry.
Attendees with VIP tickets will be able to take part in live Q&As with speakers, to also join the event's one on one networking experience.
The crypto event will have the following speakers:
Mike Dudas, CEO at The Block Crypto;
Meltem Demirors, Investor at Coinshares.co;
Kevin Owocki, CEO at Gitcoin;
Taylor Monahan, CEO at MyCrypto;
Brad Michaelson, Head of Marketing at eToro US;
Rob Paone, Founder at Proof of Talent;
Dovey Wan, Founding Partner at Primitive Ventures;
Nathaniel Whittemore, Founder at Long Reads Sunday / The Breakdown Podcast;
Catherine Coley, CEO at Binance.US;
Dan Held, Business Development at Kraken.
Conclusion
We have reached the end of our list including some of the best online crypto events of this June. Seeing as that all of them will be streamed online, you can take part in more than one conference.
Featured image: moneycrashers.com
* The information in this article and the links provided are for general information purposes only and should not constitute any financial or investment advice. We advise you to do your own research or consult a professional before making financial decisions. Please acknowledge that we are not responsible for any loss caused by any information present on this website.