If you are looking to participate in an engaging crypto event this February, know that there are plenty of conferences, talks, and workshops that are scheduled to take place this month.
We have compiled a list with some of the most attendance-worthy crypto events that are scheduled to take place in February:
Advancing Bitcoin Developer Conference
Event date: 6-7 February
Event location: London, UK
Advancing Bitcoin Developer Conference is an event that will concentrate on the technical aspects of Bitcoin and Lightning Network technology.
The conference's first day will feature several discussions on the topics, and the second day has scheduled a number of workshops. The event will bring together notable speakers from the industry and the most experienced Bitcoin developers and app creators.
The list of speakers will include some of the following names:
Jimmy Song, Author of Programming Bitcoin;
Andrew Poelstra, Director of Research at Blockstream;
Stepan Snigirev, CTO of CryptoAdvance.
DAS London

Event date: 10 February
Event Location: London
DAS: London is an event that caters to financial market professionals and will focus on subjects such as market infrastructure, trading methods in exchange and OTC markets, derivatives, and financial trading products.
More than 500 delegates, including managers and allocators, will be attending to speak directly and impart their perspectives to financial institutions, asset managers, and blockchain innovators on pressing topics of interest.
Some of the announced speakers are:
Ruth Wandhöfer, Non-Executive Director, Board of LSEG and Sr. Advisor at KPMG's UK Banking Practice;
Daniel Masters, Executive Chairman at CoinShares Group;
Ioana Surpateanu, Co-Head of European Government Affairs, Innovation Strategy & Advocacy at Citi;
Swen Werner, Managing Director at State Street.
The Blockchain Event 2020
Event date: 11-14 February
Event location: Fort Lauderdale, Florida
The Blockchain Event is a learning platform for developers, decision-makers, and technology enthusiasts which will present how to integrate blockchain in their businesses.
The crypto event will feature case studies, keynotes and panel discussions, which will approach subjects such as blockchain and its application and benefits in business issues, development, and implementation of blockchain projects, practical use cases, and more.
Other topics will focus on the disruptive nature of blockchain in the fintech market and how it can shape a new global economy.
The following speakers are expected to attend the crypto event:
Sri Srinivasan, SVP & GM, Team Collaboration Group at Cisco;
Kate Matsudaira, Director, Google Tech Engineering at Google;
Vik Verma, CEO at 8×8, Inc.;
Diane Chaleff, G Suite Lead for Office of the CTO at Google Cloud;
Jeff Pulver, Vice Chairman at Alchemist;
Aman Quadri, CEO at AMSYS Blockchain;
Amy Vernon, VP, Communication at Rivetz;
Natalie Gil, CTO of The Blockchain Challenge;
Andrey Zamovskiy, Founder of Ambisafe.
Blockchain Economy: Istanbul
Event date: 20-21 February
Event location: Istanbul, Turkey
This 2-day conference will be the biggest blockchain and cryptocurrency event ever to take place in this region and will focus on a diversity of subjects, such as fintech and its future applications.
2,000 people from more than 60 countries are expected to attend, and considering the number of CEOs and developers, you will have ample networking opportunities.
Blockchain Economy 2020 conference will mainly focus on blockchain and crypto, but it will also discuss artificial intelligence, decentralized technologies, big data, IoT, and other subjects.
The following figures are expected to speak at the crypto event:
John McAfee, Security guru, and crypto supporter;
Nicolas Cary, Co-founder of Blockchain.com;
Alex Alexandrov, CEO of Coinpayments.net;
Tim Draper, Founder Draper Assoc;
Franklin Urteaga, White House Technology Advisor;
Tom Lee, Wall Street Analyst.
NFT.NYC
Event date: 20 February
Event location: New York City
New York City will be hosting NFT.NYC, a crypto event that will be discussing all matters related to non-fungible tokens.
500 delegates, including leading figures, innovators, developers, and enthusiasts, will be congregating to participate in stimulating talks, workshops, and briefings held by the biggest names and companies in the blockchain.
Some of the speakers that will be attending are:
John Hargrave, CEO of Media Shower & Publisher of Bitcoin Market Journal;
Perianne Boring, Founder & President of the Chamber of Digital Commerce;
Alex Mashinsky, Founder at Celsius Network.
Blockchain Dev Conference 2020
Event date: 13-14 February
Event location: San Francisco, California
Blockchain Dev Conference introduces developers to blockchain and Ethereum development and features the latest innovations that have been built using this protocol.
The conference is a part of Developer Week 2020, which is one of the largest developer conferences in the San Francisco area, featuring week-long and city-wide events across the city.
Their conference and workshops will focus on all major technologies and feature introductory lessons (as well as tips and tricks) on developing projects in VR, Artificial Intelligence, Blockchain, IoT, Serverless technology, new JavaScript frameworks, Microservices technology, and many others.
Below are some of the names of the speakers that will be present at the event:
Nathaniel Eliot, CEO, The Greenfield Guild;
Dave Stokes, MySQL Community Manager, Oracle;
Greg Law, CTO & founder, Undo;
Pooja Reddivari, PayPal;
Carolina Belmonte, Practice Architect of Data Analytics and Insights, TEKsystems;
Tom Chavez, Developer Marketing, Splunk;
Anand Ozarkar, Senior Engineering Manager Security @ Equinix;
Shane Ray Martin, AI Negotiator, KB Fund.
Northern Blockchain Conference
Event date: 22 February
Event location: Harewood Way York, UK
The Northern Blockchain Conference 2020 is expected to be the largest event dedicated to the blockchain that will take place in the northern region of the UK.
More than 20 speakers from various industries will be taking on a diversity of interesting topics in thought-provoking talks and panels. The event will also feature a special area designed for networking where guests will be able to interact with companies and speakers.
Speakers:
Zain Rana, CEO of Pharmeum;
Peter Longworth, CEO of BlockLogic;
Lavinia Osbourne, Founder of Women in Blockchain.
Internet of Things 2020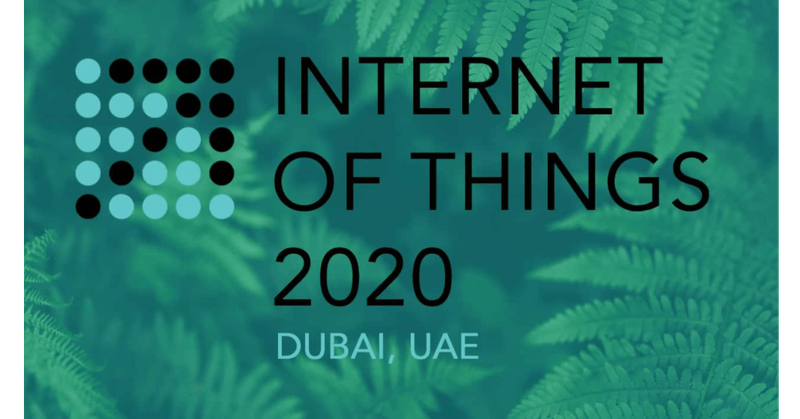 Event date: 24 February
Event location: Dubai – United Arab Emirates
IoT 2020 is a one-day conference that will allow delegates to gain insights and in-depth advice on wide-scale IoT deployment and how to advance to the next levels in their company's IoT strategy.
This will be the largest event in the GCC that will be about IoT, AT, data analytics, and digitalization, where cutting-edge innovations and strategies will be featured.
The following speakers will be taking the stage at the event:
Jihad Tayara, Chief Executive Officer Evoteq;
Sven J Körner, Chief Executive Officer thingsTHINKING GMBH;
Christophe Vloebergh, CASE Implementation Manager Mercedes-Benz Cars Middle East;
Tatiana Toutikian, Artist, Designer, Researcher, Founder IXDA Beirut Chapter, Collaboration Manager MENA Design Research Center;
Michael G. Jacobides, Chair of Entrepreneurship & Innovation, London Business School, TEDx speaker, visiting Scholar, New York Fed and Cambridge U.;
Houda Daboussi, General Manager, New Business Shell;
Magnus Olsson, Chief Xperience Officer & Co-Founder Careem.
Conclusion
This has been our list of the top crypto events you should not miss this February. We suggest getting tickets in advance for your favorite crypto event.
Featured image: blog.standuply.com
Note: This post was originally published on 1 February 2019 and has been totally updated for the completeness and veracity of the content on 1 February 2020.
* The information in this article and the links provided are for general information purposes only and should not constitute any financial or investment advice. We advise you to do your own research or consult a professional before making financial decisions. Please acknowledge that we are not responsible for any loss caused by any information present on this website.