Airdrops represent one of the best ways to advertise a crypto product, service, coin, or exchange.
Considering the complexity of airdrops in general and their ever-increasing numbers, a platform that can list legit airdrops, offers assistance, and informs users on this matter is needed now more than ever.
What is an airdrop? An airdrop is a process whereby a cryptocurrency enterprise freely distributes tokens to the wallets of existing or new users.
We've created a list of some of the most relevant airdrop listing platforms, which are sure to help you stay up to date with the latest ICOs, as well as partake in any potentially advantageous airdrop.

PS We're also checking for crypto airdrops and make a monthly list here. Some of them really paid 4 or 5 figures worth of crypto. Make sure to check it out.
CoinMarketCap
CoinMarketCap is well known for showing the best crypto airdrops. There are three types of airdrop campaigns listed on CoinMarketCap: completed airdrops, current airdrops, and prospective airdrops.
While "ongoing airdrops" allow users to participate, airdrops in the "future" category allow users to be notified when the airdrop goes live. Simply add the airdrop to your whitelist and you'll be notified hours before it goes live.
Alert Airdrop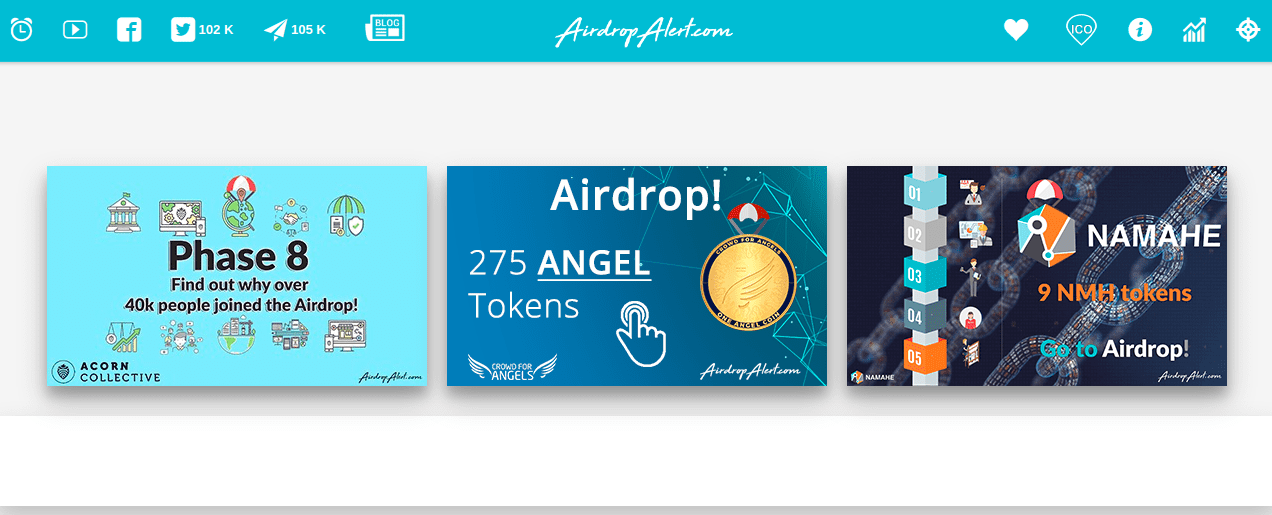 Alert Airdrop is yet another feature-packed platform for airdrop enthusiasts. Just like 99airdrops.com, it has a very user-friendly and modern-looking UI. It provides its users with a broad range of filtering options. For example, the airdrops can be filtered and arranged based on their ongoing and soon-to-end statuses.
In addition, Alert Airdrop has various other features that are not present on other platforms of this type.
Coindoo
Since a long time ago, Coindoo offers each month the best crypto airdrops and recently the best NFT airdrops and giveaways. The airdrops presented are currently active and selected very well in order to share the best options available.
At the section top crypto airdrops, you can check the best crypto airdrops for the current month. At the beginning of the new month, a new list will appear.
Coin Airdrop
Coin Airdrop is another useful source for locating legitimate and beneficial airdrops. The website is regularly updated in order to provide its users with the very best airdrop broadcasts. It features an intuitive GUI that provides easy access to information about upcoming airdrops events and how to claim the airdrops in question.
Users with less or no experience in regards to airdrops have not been forgotten. The site includes an impressive number of guides meant to bring them up to speed on everything there is to know about airdrops.
Coin Airdrop is the brainchild of a cryptocurrency enthusiast by the name of Midas. You can show your appreciation by lending them part of your device's computing power which will be used for mining cryptocurrency.
Airdrop.io
Airdrops.io is a free airdrop repository. Airdrops.io is a "free aggregator for crypto airdrops," according to the website, and has no role with the airdrops listed there. While they make every attempt to publicize legitimate airdrops, you should perform your own research before investing in a token presale offer and avoid exposing your personal information.
The platform makes use of a powerful ranking system that ensures that you are provided with only the best airdrops.
Since all upcoming airdrops have an associated countdown timer, it's really easy for you to always know when it's the best time to make a move and go forward with a specific airdrop.
TheCCPress
The articles from TheCCPress look at the best crypto airdrops for each month. There you can find the best crypto airdrops. TheCCpress is considered a cryptocurrency digital media and information services website.
Their goal is to add value to cryptocurrency and blockchain knowledge by offering a relevant and comprehensive insight into the entire cryptocurrency industry.
More Information about Airdrops
Many more crypto airdrops are coming up – if you know where to look. It is a perfect time to grab those big-ticket tokens that you have been contemplating splurging on since the start of the year.
The overarching message from crypto entrepreneurs and investors as a new round of coin airdrops begins is that things are still looking bright. These conditions are even better in industries like gaming and NFTs, where raucous rallies are expected.
In conclusion, airdrops don't represent the fastest way of making money. However, you never know how the financial tides will turn, and coins that were worth almost nothing in the token distribution phase might end up like Bitcoin.
* The information in this article and the links provided are for general information purposes only and should not constitute any financial or investment advice. We advise you to do your own research or consult a professional before making financial decisions. Please acknowledge that we are not responsible for any loss caused by any information present on this website.