Ripple is one of the most popular virtual currencies in the market. However, not everyone knows how to purchase it. In this article, we will explain to you how to buy Ripple in the US. The main goal will be to share with you some of the best ways to acquire XRP in this market.
It is worth mentioning that each of the countries in which cryptocurrencies operate has different rules. Not all jurisdictions allow users to handle digital assets in the same way. This is why some exchanges would not work in some countries.
What Is Ripple?
Although XRP is the third-largest virtual currency in the market, there are investors who do not know about it. This is one of the most profitable and largest digital assets in the world. Indeed, CoinMarketCap shows it is now the most popular crypto after Bitcoin (BTC) and Ethereum (ETH), and Tether (USDT).
Ripple, the company behind XRP and its development, is helping the whole network to expand. They are signing new partnerships with financial companies and promoting XRP's usage. XRP can be used to reduce transaction costs for transfers across borders. This is certainly useful for firms that offer remittance services.
The United States is an important market for remittances. A large number of individuals are now working in the US and sending funds back to their home countries. This remittance market is growing day after day. This is why it is important to know how to buy Ripple in the US.
It is necessary to have better services offered to financial firms that help users send funds across borders. This is why Ripple is doing majestic work, expanding XRP usage in different jurisdictions. At the moment, there are over 300 firms around the world using Ripple's services.
How to Buy Ripple in the US
Ripple is moving forward in the market. As mentioned before, they are trying to attract a larger number of companies from different continents. This is going to certainly help push the price of XRP upwards in the long term.
In this section, we will share with you, which are the most efficient ways on how to buy Ripple in the US. Basically, exchanges are the fastest and simplest option for users to have access to this virtual currency. If you are already using some of the most popular exchanges, then you will find this guide very straightforward. With this in mind, you will perhaps learn about a new option for you to acquire Ripple.
Binance.US Crypto Exchange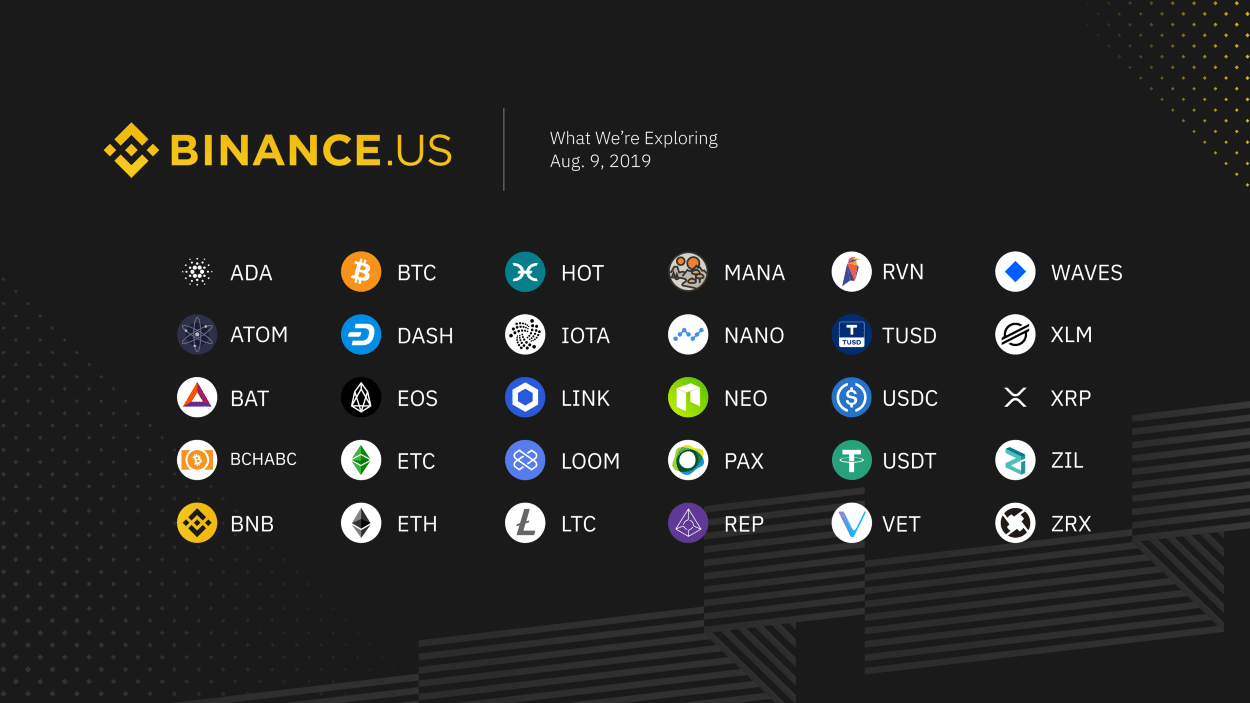 Binance is perhaps the most popular crypto platform to acquire digital assets. Although it operated under the Binance.com domain, it is now offering services through Binance.US.
The basic solution is the spot exchange. Binance allows traders to exchange virtual currencies for USD on their Binance.US version. At the same time, they include several stablecoins for traders that consider it is better to use crypto. Binance is one of the easiest ways to buy Ripple in the US.
In addition to it, Binance has already added futures and margin trading for virtual currencies. This is also very useful for traders who want to improve their trading strategies. Furthermore, Binance has a large number of trading pairs, which is good to diversify your portfolio.
The exchange is also offering a wide range of financial services. They are now allowing users to stake their virtual currencies – if applicable. Moreover, Binance is offering lending services that help users generate some additional funds on their accounts.
This is going to be one of the easiest ways for you on how to buy Ripple in the US. Indeed, Binance is also helping users purchase digital currencies using credit and debit cards. This is one of the most straightforward ways to buy and sell virtual currencies. If you are already a crypto user, you can send your funds to Binance and exchange them for XRP.
Coinbase Crypto Exchange
Coinbase is another popular crypto trading platform in the market. They operate not only in the United States but also have a presence in a large number of countries. The main difference with Binance is the fact that Coinbase has fewer trading pairs. Thus, Binance would be a better platform if you have a diversified portfolio.
The main advantage of using Coinbase is related to its user-friendly solutions provided. It can be a great platform for newcomers who do not know how to handle digital currencies. This exchange offers users the possibility to buy Ripple and other virtual currencies in just a few clicks.
At the same time, if you are a more advanced user, you can simply open a Coinbase Pro account. Coinbase Pro is the advanced version of the crypto trading services offered by Coinbase. If you want to trade digital assets, this is going to be a very useful platform for you.
Moreover, Coinbase is offering similar services to Binance in terms of staking. Considering that some virtual currencies allow users to earn rewards by staking, exchanges are capitalizing on that. One of the digital assets that is now offering these solutions is Tezos (XTZ). In the future, Cardano (ADA) could be added as well.
Both Coinbase and Binance closely comply with U.S. regulations. This is going to be very useful in case the exchange experiences a legal issue. Many crypto companies in the past had to shut their operations down due to the fact they didn't comply with local regulations.
Coinbase may also add fixed-term investment solutions for users. This could be very useful to attract new traders. Investors are searching for different ways to diversify their investments and funds. As we previously said, Coinbase is very useful for new users and those who do not have a large experience.
Bitstamp Crypto Exchange
Bitstamp is also a popular cryptocurrency exchange that is focused on just a few trading pairs for users. They are now offering individuals the possibility to trade XRP with USD and EUR as well. This is specifically useful for those who have bank accounts in both EUR and USD.
The way it works is very straightforward. In order to acquire Ripple, you will have to send some funds to the platform. Once the transfer is processed, you will have the possibility to acquire the XRP you want.
At Bitstamp, you will be able to trade XRP against BTC, EUR, and USD, as aforementioned. These three trading pairs represent 15% of the total trading volume of the platform. If you are only interested in acquiring Ripple, this is going to be very easy to do from Bitstamp.
Moreover, you can always have minimal diversification. For example, you can acquire on this exchange Bitcoin, Ethereum, and Litecoin. In the future, Bitstamp may also start offering other services just as Coinbase and Binance are currently doing.
Ledger Hardware Wallet
Holding the most popular cryptocurrencies – including Ripple – in an exchange is a dangerous thing to do. If you are the owner of a large amount of XRP, then the best thing to do is to use a hardware wallet. These wallets allow you not only to be the real owner of your funds but also to protect yourself from attacks.
Hackers are usually targeting crypto exchanges in order to steal their funds. When that happens, all the funds you have in an online platform can easily disappear. This is why Ledger has developed two of the best solutions to store Ripple and other cryptocurrencies.
Ledger Nano S and Ledger Nano X are the most popular devices created by Ledger. These two hardware wallets offer users the possibility to control their funds. At the same time, they are protected against crypto hacks and attacks on exchanges.
Conclusion
In this article, we answered the question of how to buy Ripple in the US. There are three main platforms that would allow you to do so: Coinbase, Binance, and Bitstamp. Nonetheless, there are many other platforms in the country where to acquire Ripple. Indeed, you can even buy Ripple using cash if a friend of yours is selling this virtual currency.
At the same time, we advised you to acquire a hardware wallet to hold your digital assets. In this way, your funds will be protected at all times from attackers and hacks that crypto exchanges suffer.
* The information in this article and the links provided are for general information purposes only and should not constitute any financial or investment advice. We advise you to do your own research or consult a professional before making financial decisions. Please acknowledge that we are not responsible for any loss caused by any information present on this website.