Chainlink (LINK) Price Prediction and Analysis in December 2020
Last Updated on Feb 24, 2021 at 2:27 PM
Certainly, those who are interested in investing in cryptocurrencies are familiar with Bitcoin (BTC). However, there are altcoins that have also distinguished themselves as reliable investments that bring good returns in a short time. One of such is the DeFi token with the largest market cap, Chainlink (LINK). This article outlines Chainlink price prediction and analysis of this coin and gives projections on its performance in December 2020.
Chainlink Overview
Chainlink was created to facilitate the use of smart contracts with real-life data. It is a decentralized Oracle network built on the Ethereum blockchain. Its native currency – LINK is used primarily to reward node operators who help to secure the network and is also now considered to be an investment by many who have entered into the DeFi market.
LINK is the 7th largest cryptocurrency by market cap. It is also a DeFi token, which places it in the class of the explosive tokens, such as Dai, Aave, and Uniswap. It is, therefore, not surprising that it is one of the best performing cryptocurrencies of 2020. In fact, the Q3 report shows that it was the best performing in the quarter.
The cryptocurrency currently has a market cap of $4,978,600,501 and a circulating supply of 394,509,556. It has a capped supply of 1 billion LINK, and $960,601,455 worth of it has been traded in the last 24 hours. The price is set at $12.72 at the time of writing this article.
Chainlink Price Prediction: Analysis
LINK has been at the forefront of price action this year, and while the momentum has slowed down a bit, analysts believe it could bounce back. Following the dip in August after the DeFi boom, it has not risen much though. It has only reached the highest price of $15.72 in the last month and dropped to range between $11 and $14 since 26 November.
Even if the price doesn't seem to be making many moves, the daily chart of LINK/USD shows that the asset is doing pretty well, and it is in a bullish trend in general. The 20, 50, and 100 Moving Averages are properly stacked, meaning that the asset is in a positive trend, at least in the short-term.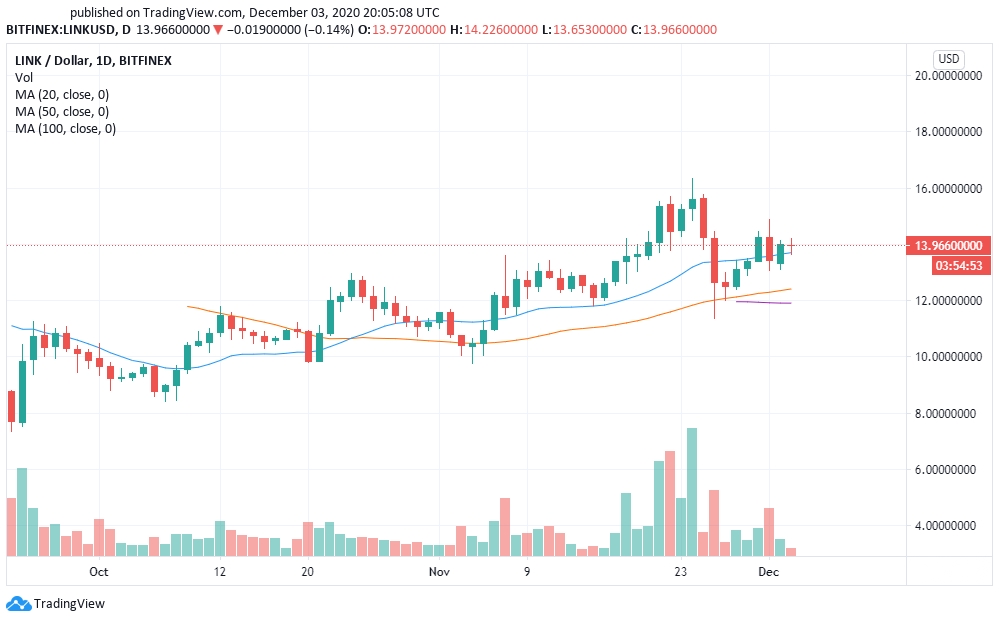 A look at the Relative Strength Index, which is currently at 54, shows that the buyers are in control but with a lot of room for more buyers before it reaches an oversold condition that could signal a potential drop. All these suggest that LINK has room for the price to grow to higher levels if everything else remains the same.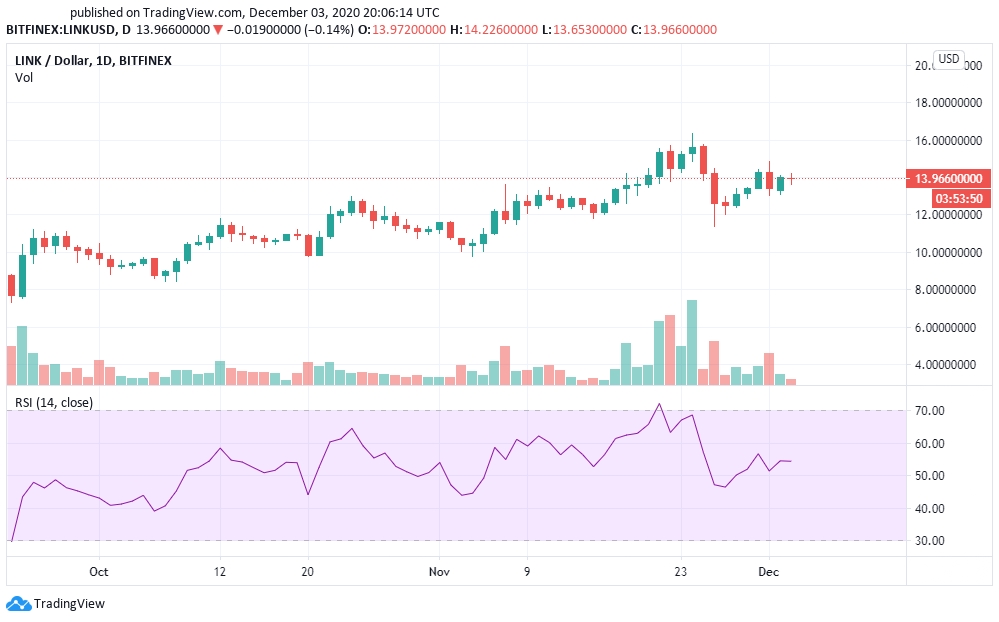 Below is a calculation of critical resistance and support levels from Walletinvestor to help traders in their trading decisions:
Resistance Level (R3): 15.360;
Resistance Level (R2): 14.745;
Resistance Level (R1): 14.367;
Pivot Point: 13.751;
Support Level (S1): 13.373;
Support Level (S2): 12.758;
Support Level (S3): 12.380.
Developments
On Wednesday, 2 December, it was announced that Chainlink will collaborate with Keep3r to help scale the later. According to a Medium post, Chainlink was chosen for the job because of its reputation for high security and reliability in computations such as Keep3r. To achieve the goal of helping to scale Keep3r, Chainlink node operators are to run a progressively higher number of important keeper jobs to transfer Chainlink's reliability to Keep3r.
Keep3r is a job matching platform that seeks to connect job owners who post jobs with those who will do the work, known as keepers. Under this arrangement, Keepers will gradually migrate to the use of LINK as well as their payment and staking system. This transition is expected to go smoothly with the new agnostic Chainlink payment rails.
Chainlink Price Prediction: Market Opinion for December 2020
The following are LINK price prediction opinions from a number of reputable websites known for price prediction and analysis to help you get a clearer view of what to expect for LINK in December.
Walletinvestor
Based on prediction from Walletinvestor, LINK could rise as high as $17.117, while the lowest expected price could be $13.193. Below is the complete prediction for the next 10 days:
| | | | |
| --- | --- | --- | --- |
| Date | Price | Min Price | Max Price |
| 2020-12-08 | 14.948 | 13.989 | 15.899 |
| 2020-12-09 | 14.960 | 13.979 | 15.994 |
| 2020-12-10 | 14.013 | 13.063 | 14.965 |
| 2020-12-11 | 14.237 | 13.292 | 15.252 |
| 2020-12-12 | 14.745 | 13.743 | 15.792 |
| 2020-12-13 | 14.727 | 13.823 | 15.636 |
| 2020-12-14 | 15.046 | 14.064 | 16.024 |
| 2020-12-15 | 15.449 | 14.508 | 16.375 |
| 2020-12-16 | 15.461 | 14.504 | 16.463 |
| 2020-12-17 | 14.515 | 13.575 | 15.445 |
| 2020-12-18 | 14.738 | 13.821 | 15.710 |
Digitalcoinprice
Digitalcoinprice anticipates a drop in LINK's price to $12.57 by the end of December 2020. This represents a drop of over 9% from the current price.
Cryptocurrencypriceprediction
According to this website, LINK will reach an average price of $17.69 in December 2020.
Tradingbeasts
Tradingbeasts predicts that LINK's price will be at $11.949 by the beginning of January 2021, which means that December 2020 will close around the same price.
Chainlink Price Prediction: Verdict
The general sentiment for LINK remains bullish in December 2020. However, the cryptocurrency has not yet attained the stability of bigger ones, such as Bitcoin, which means that investing in it should be approached with caution, and you should remember not to invest more than you can afford to lose. A good idea would be a longer-term investment that might be enough if followed patiently.
Featured image: crypto-news.net